Have you ever installed a plugin in After Effects that has made you ask why I didn't think of this? Or where has this plugin been my entire life? Yeah, AutoFill is such a plugin.
Plugin Everything stands out as a top-tier developer of plugins tailored for motion graphics and more. They offer free tools, and their premium offerings really can take your motion graphics to the next level. When I'm in the mood to explore the plugin marketplace and ponder on which one deserves a spot on my wishlist, I'm often tempted by those luxurious $300 plugins. What usually holds me back, apart from the steep price, is their specificity. For instance, while creating a YouTube informational video, the odds of needing the advanced particle system, Plexus 3, priced at $249.99, are slim. Hence, any decision to invest in Plexus 3 would likely involve including it in the project's budget.
Yet, when it comes to Plugin Everything, it's tempting to rebrand them as Plugin Everyday. Their versatile tools cater to a broad range of motion graphic needs. I struggle to recall the last time I crafted a YouTube guide without deploying Effect Matte.
And, as expected, AutoFill aligns perfectly with this ethos.
---
What is AutoFill?
AutoFill is a plugin that automatically fills the bounds of your layer with a fluid-filling animation. To visualize it, it looks a little something like this. Not so much fluid in the appearance of liquid, but how the property of liquid will fill a crevice over a surface.
A feasible approach could be crafting a path, bringing the stroke to life, and unveiling an appearance of the form getting colored. This technique, however, leans more on the complexity of the stroke's path than the original design or text. Alternatively, we might craft a mask, carefully tracing the initial shape, and gradually enhance the mask path. Yet, this kind of keyframe design is quite monotonous. A simpler technique would be to use a linear wipe for filling, but it's basic and doesn't adhere to the layer's intended path.
While the aforementioned methods are labor-intensive or lack elegance, AutoFill offers a unique touch. As its developer observed, 'You can compare AutoFill with the water that flows through your image and avoids transparent areas.'
With AutoFill, just a few clicks can spare you hours of detailed masking.
---
How Is It Operated?
My original plan for this piece was to condense the essence of the plugin and then delineate a detailed usage guide. But there's a twist. Plugin Everything suggests to "Simply activate AutoFill, determine the origin of growth, and initiate. It's that straightforward." And, honestly, that encapsulates it. It truly is as hassle-free as claimed.
I downloaded this labyrinth design from Mike Taylor. After applying the effect to the PNG and designating the growth's starting point, everything fell into place. This plugin navigates the form akin to a fluid seeking an exit.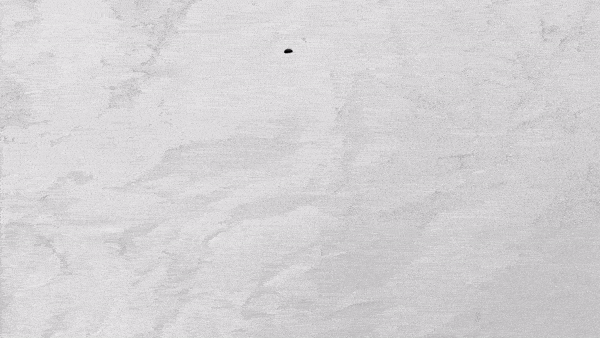 Although the plugin is primed for immediate use, it has many tweakable settings that influence the animation's development, ranging from growth pace to how it composites. But aside from these configurations, the main task is pinpointing the ideal growth source. And if pinpointing proves tricky, introduce more growth origins.
Initially, one might think this tool is tailor-made for text. However, its potential is endless. It's instrumental for animated unveilings, altering textures, dissolutions, cyclic animations, phase transitions, and more. It's compatible with elements possessing an alpha channel, like shapes, vectors, masks, AE effects, TIFF, PNG files, etc. For instance, if you possess an ideal image in JPEG, the plugin won't extract the requisite data.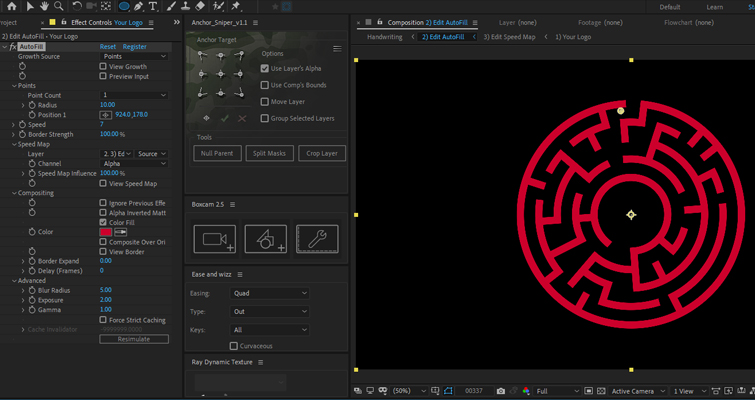 AutoFill also enables you to modulate the layer's 'filling' pace via a Speed Map. This innovative feature employs a custom layer to dictate the animation velocity in disparate zones. Brighter zones ensure quicker animations, while darker ones slow it down.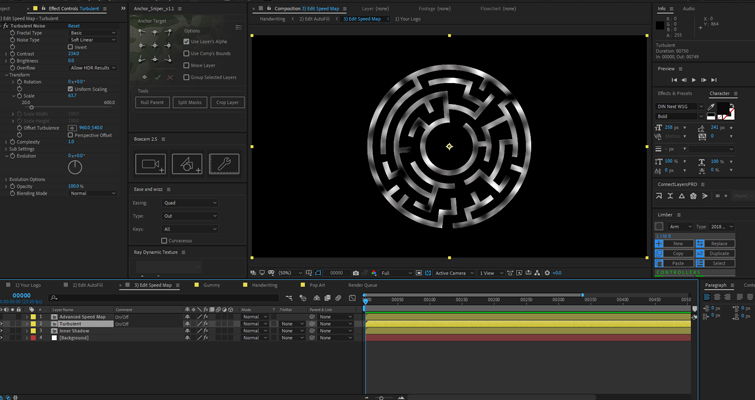 ---
I pride myself on having a robust apparatus for intensive editing and motion graphics. Yet, like many tools from Plugin Everything, AutoFill capitalizes on GPU acceleration. Strangely, my playback seemed a tad laggy – a deviation from its real-time playback claim. I also noted some unusual noise from my GPU. That said, my After Effects has been acting up recently. I'll withhold judgment on its performance until more exploration.
The plugin is available for $49.95 on aescripts.com and ranks among the top plugins I've encountered. Despite its easy-to-use nature, its brilliance shines when amalgamated with other layers and forms, resulting in truly unique creations.
---
For more on After Effects, check out these