Lighting is a crucial element in the film and video industry. It plays a key role in setting the mood and creating the desired atmosphere for a project. With the increasing demand for high-quality video content, professionals need access to reliable and effective lighting equipment. However, like the camera and lens department, the lighting section on any online outlet is also inundated with various models and choices. Often leading the consumer to a paradox of choice.
This is even more prevalent when manufacturers seem to be producing similar items. In this article, we will compare and contrast two popular lighting manufacturers, Aputure and Amaran, to help you decide which company might best fit your needs.
---
Who Is Aputure?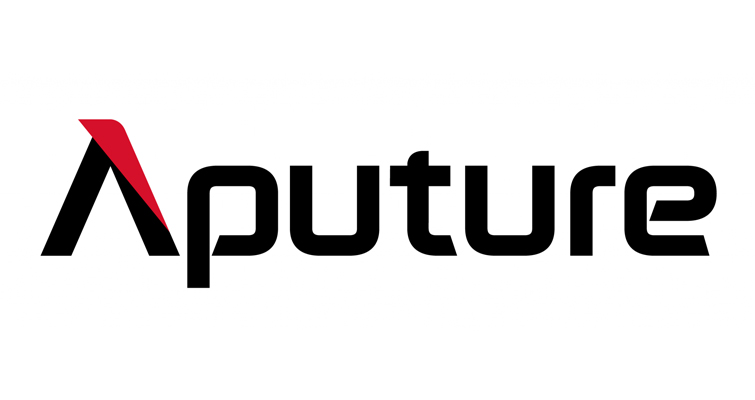 Aputure is known for its high quality and innovative products that have shaped the industry producing some incredible offerings over the past 17 years. Started back in 2005 by Ian Xie, Ted Sim, Hellen Liu and Polo Zheng; at first, the team created small products such as lens adapters and on-camera monitors. Eventually, Xie discovered the power of using light-emitting diodes in photography and became obsessed with creating the perfect LED fixture for filmmakers.

In 2014, the Aputure we now know and love was founded, and if you thought Aputure was just a form of misspelt branding like Lyft, the name combines the words "aperture" and "future."
They have consistently been the professional standard for lighting units and accessories, offering customers and professionals innovative and unique ways to use light within their projects, from their tiny lighting units like the popular Aputure MC to the powerful and heavy Nova P600c.

Not only have they perfected the product quality in both build and performance, but they have also gained a reputation for outstanding connectivity and building an eco-system that allows all Aputure products to work together efficiently. Sidus Link enables users to connect to each one of their Aputure products remotely, allowing them to have complete control over multiple devices and link them to all be producing the same colour temperature and power output or tell each unit a different parameter of options depending on placement within the scene.
When Aputure first burst onto the scene in the mid-2010s, they were initially seen as a manufacturer that could similarly provide budget LED lighting options to how SmallRig was providing inexpensive camera rigging accessories. However, over the last few years, Aputure has quickly cemented itself as a leading player within the industry. With their more robust offerings like LS1200d, P600c, and 600D, Aputure is often spotted on film sets, tv studios, and sports broadcasts.

Aputure are innovators and constantly pushing new features, products and options to its consumers. They have been the go-to for LED lighting products for years, and it's always exciting to see the following new product they bring to the market.
---
Who is Amaran?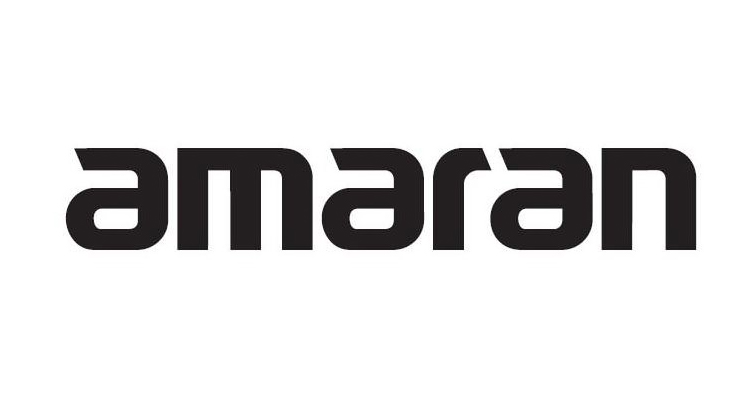 This is where it can initially get confusing. See, several initial Aputure products held the Amaran title, like the Aputure Amaran Tri-8, the Aputure Amaran AL-M9, and even the self-titled The Amaran.
The Amaran was one of the first lines of products that changed the no-to-low-budget film industry, as it was one of the first affordable light fixtures that standard camera batteries could power—offering silent and reliable performance at a fraction of the price of lighting units at the time.
However, as Aputure started to produce larger lights aimed at disrupting the professional market, we saw the Amaran series fade away. Until recently, that is. Amaran is once again gracing the sets of YouTubers and vloggers, as we saw four product releases back in 2021.
The Amaran 100d & 100x and 200d & 200x. A series of lights aimed at online content creators, photographers, live streamers and solo filmmakers who need consistent lighting for a fraction of the price of the professional units.
All of Amaran's releases so far have been highly praised for their ease of use, connectivity, build quality, and raw lighting power. They have also released similar products like Aputure, such as the portable P60c 60W RGBWW Lensed LED Panel, but it got less attention and praise than the Aputure MC at launch.
You can also find well-priced accessories for the LED units they produce (though very limited in choice); these include soft boxes and light modifiers, cables and handles and grips.
All aimed to be super affordable, high quality and an ideal combination with their units.
The main philosophy behind Amaran products is affordability but powerful; nobody likes to have second thoughts after being disappointed by buying a cheaper product compared to a more premium feature riched product with all the bells and whistles.
They keep it simple with the main aspect of the product providing high-quality lighting for all users but maintaining acceptable build quality and minimal features to justify its low price.
---
Who Makes Amaran Products?
Surprise! Its Aputure! They have kept Amaran's budget-friendly option and main professional-grade products separate. Still, they have always kept standards sky-high to innovate and bring the best products to the market regardless of the budget.
---
The Products
First, let's discuss what both brands offer; each offers powerful lighting equipment for studios and enthusiasts, light-shaping accessories, and lighting software. The difference? Price, features and materials used.
Both Aperture and Amaran products are regarded as some of the best you can get in regards to lighting units for their performance, build quality and listening to consumers to improve on products/firmware updates.
Aputure is aimed towards high-end users and professionals who want the best lighting system to aid them in their productions. Amaran, on the other hand, is for the newcomer to the video/photography space, online content creators and even streamers who need an affordable option that can provide a clean light source without spending hundreds of dollars.
If the same company is making similar products but at vastly different prices, there must be an identifiable difference between them, right? Let's look at a product from both brands and compare them to see if the differences in quality, features and more are worth the extra money.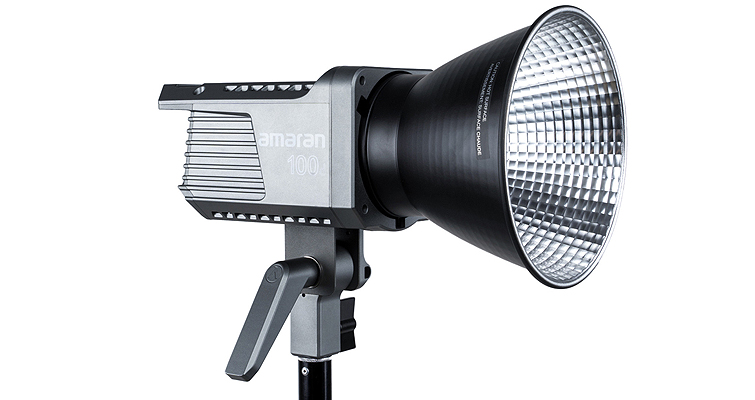 Key Features
100W Point-Source LED Light
Beam Angle: 105°, Dims 0-100%
Colour: 5600K, CRI/TLCI: 95/96
Bluetooth Remote Controllable
AC Power, Optional Battery
8 Built-In Customizable Effects
Bowens Reflector Mount, Umbrella Holder
You can buy it here.
Aputure 120D – RRP $799.00 (at release)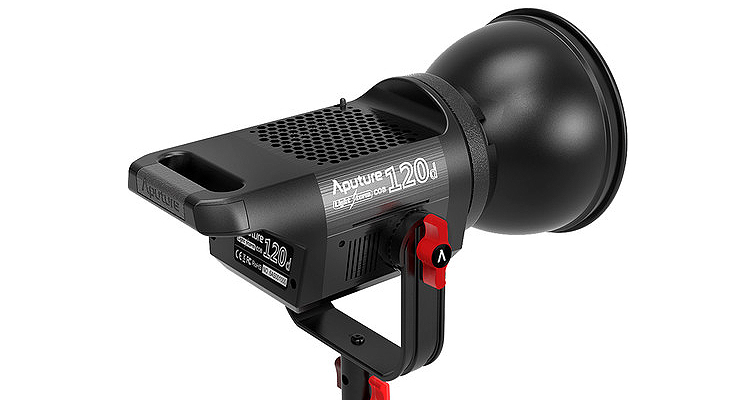 Key Features
Tungsten equivalent of 1000 watts
Control Box with integrated power and control
5500K temperature, CRI and TLCI 97
Dimmable from a full 100% to a fraction of a percent.
Fireworks, fire, lightning, paparazzi, and TV flicker are all built-in lighting effects.
Fan with a noise level of 18 decibels
Wireless Remote (up to 328-foot range)
(Please note – The Aputure 120d Mk I is now discontinued and replaced by the Mark II model. Which offers a slight boost in brightness performance, offering a 20w increase in power)
Firstly this is a partial comparison between the two products, and there are plenty of reviews and YouTube videos of videographers and photographers giving their opinion. As you can see, specs-wise, they both offer the same fundamentals, a strong and bright source of control light that can aid you in lighting up a subject or a scene.
The main differences come down to build quality, CRI, and options to control the light. The Amaran 100d, as an example, uses a hard plastic material as its housing, while the Aputure 120d uses aluminium. One of these fixtures will survive much more wear and tear than the other (hint, it's the aputure).
Both feature wireless connectivity via phone/tablet application, but the Amaran user experience is much simpler. The one-knob system on the back featuring a small LCD screen will let you control the intensity levels in instruments of 1% through clicking on the knob will allow you to go in up 20% quickly; the LCD panel is positioned on the back of the light perfectly for ease of viewing at any angle.
The Aputure 120D, on the other hand, is much more detailed when it comes to dialling in colour temperatures and intensities; using a wired controller which isn't connected to the main body of the light allows you to adjust and make changes on the fly without having to reach up high and fumble around with the light to see what you are entering. The controller also has a built-in V-lock battery mount which is ideal for users who need to use the light for a long time outside or away from a mains socket.
The Amaran 100d has a CRI of 95, and the Aputure 120D has a CRI of 97. The difference between a light with a CRI of 80 vs 90 will be extremely apparent. And a light with a CRI of 95 will perform notably better than one with 90. The jump from 95 to 97 is only incremental, and we would need to be in a specific setup for it to become quite apparent. However, that being said, a 97 CRI is ultimately better and preferable than a light that has a 95 CRI.
---
Conclusion
There's no doubt that the price to performance is there for the 100d, but its targeted audience is newcomers or budget-friendly users who need something reliable, portable and doesn't break the bank. The 120D, on the other hand, is built for professionals or enthusiasts who can afford to pay for Apturue's professional-grade products; they are the users who need the best when it comes to performance, mounting options and top-of-the-line build quality.
And ultimately, this is the difference between the two lines, so consider that when you see future Aputure and Amaran products that share similarities but land at different price points.
---
For more on filmmaking technology, check out these articles: