Often touted as a cheaper version of the Aperture 120D for UK buyers, how does the PixaPro LED 100D Mk II hold up?
You watch the video review for visual examples of the light in use, or if you prefer, you can find the written article below (originally published in 2016).
---
The Review
Often you can be in a location where the use of Fresnel lighting is not an option. Perhaps the area is too compact, and the setup of the lights and their heat output will be too extreme for your other equipment and actors. To counter the heat of the tungsten Fresnel's, you can look at acquiring an LED version of that light. Now, LED fresnels quickly run into thousands of pounds. However, for just a few hundred pounds, you can look at getting the behemoth tool of the PixaPro LED 100 MK II.
Recently I've been using the Pixapro LED100D Mk II daylight light, which is priced at £279.
Design
This is not going to break easily; it is going to have to endure a lot of stress before the housing gives way. Given the power output, the light is very compact compared to other lights that provide the same Illuminance. At the front, there is an S-type fitting to which many accessories can be attached. The light comes with a reflector dish, but there is also an umbrella that can be purchased from Pixapro, this turns to the light into a nice softbox. Great alternative if you don't have access to diffusion sheets.
Underneath the light, we have a plug for a v-mount battery adapter. The battery supplied can will last for one hour running time at full power, and the adapter has a velcro strap, which will allow you to attach it to a light stand easily.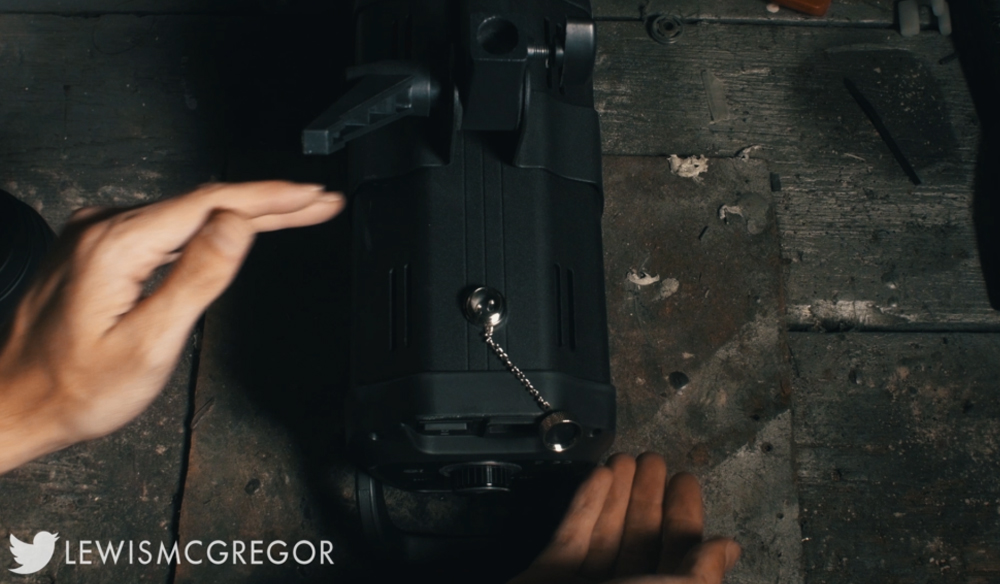 On the back, there is an operation dial. There are two-channel selections for wireless operation, and then the dial operation for dimming. The brightness can be increased in decimal increments all the way from 1.0 to 6.0. I will say, if I have to give this light a negative, it is the dial operation. I would love to be able to go from 1.0 to 6.0 in a single turn.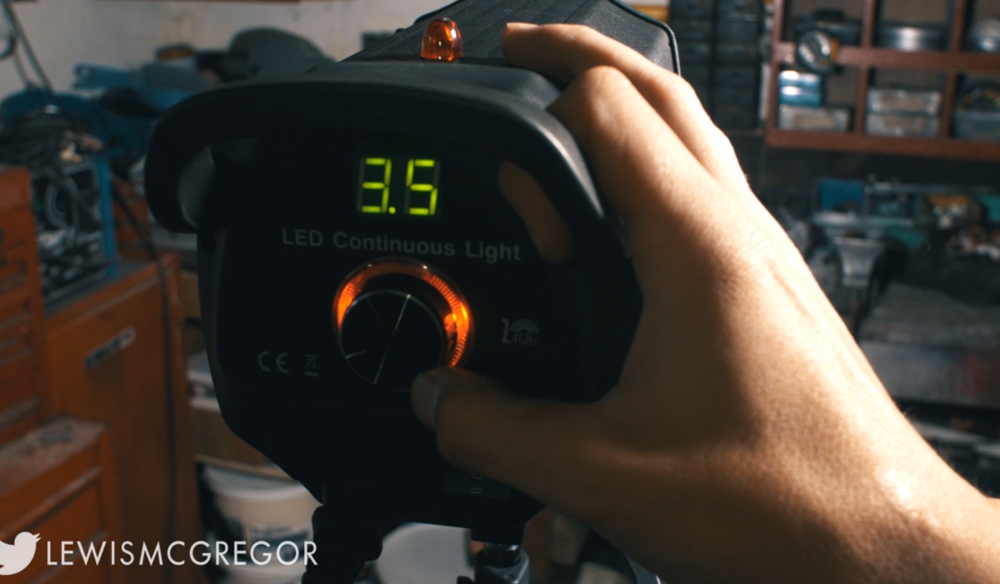 The light itself is produced from an integrated LED chip, which will last for around 30,000 working hours before self-destructing. This is a bright light—the LUX rating of 42,000 at half a meter, and 15,000 at one meter. I recently used this on my short film to blast in light from the outside to mimic the sunlight, and as you can see from the results [watch video], it worked perfectly. There are an overall consistency and brightness with the light; it's been an excellent tool for green screen work. Although the beam angle at 45° doesn't make this a one-stop-shop for complete light coverage, as you cannot specifically direct the light, this can be powered with both AC/DC voltage inputs.
With being able to produce so much brightness, you would assume the light gets hot, but no. Of course, the LED itself becomes hot, but the housing doesn't because of the built-in fan, which is near enough silent. The light has a CRI rating of ≥94, which is going to help dramatically reproduce accurate color in your video and photographs. No blotchy skin tones or offset greens here.
Now, a problem I've always had with tungsten and other LEDs is the flicker you encounter as you start to increase your frame rate and shutter speed for slow motion. With this light, you can work up to 900fps before you begin to see any flickering. Along with the crazy Illuminance, the light is an excellent tool for slow-mo. It's a great light, sturdy, very powerful and for the low price of £299 it's a complete steal, it really is. I think this is no my go-to light for when I need to blast in illumination from outside.
Specifications
Direct from Pixapro, here are the specifications.
Model
PIXAPRO LED100D MKII
Power Output
100W
Luminous Flux
10,000 lm
Brightness/Illuminance
42,000 lux @ 50cm (15,000 lux @ 1m)
LED Type
Integrated LED Chip
Colour Temperature
5600k
Beam Angle
45°
CRI
≥94
Power Range
10-100%
LED Life
Approx. 50,000 Hours
Remote Control
Yes (Sold Separately)
Dimensions
275mm x 130mm x 220mm
90cm Umbrella Softbox
Diameter
90cm
Shape
Octagonal
Layers of Diffusion
2
Gris size
4cm
Fitting
S-Type (Interchangeable)
260cm Stand
Min. Height
111cm
Max. Height
260cm
Max. Load Capacity
5kg
Tube Diameter
30cm/25cm/22cm/19cm
Spigot Size
5/8"
Air-Cushioned
Yes
Material
---
AluminumYou can acquire a LED100D Mk II kit here.