After the newly released sci-fi horror film Prey, I wanted to shed some light on the dedicated composer Sarah Schachner. Well known for her work on Assassin's Creed and Call Of Duty, we will explore her sound world, approaches and the differences between composing for games and film.
---
Introduction to Sarah Schachner
A small introduction to Sarah, she is an American composer and musician. Born in Philadelphia, she started her musical journey by playing the piano, and the violin, viola and cello followed as her musical interest grew. Sarah went on to study at Berklee College of Music, studying with Brian Tyler. Later, being introduced to the world of composing for games, she landed her gig with Call Of Duty: Modern Warfare 3. Her musical language progressed by including synthesisers in her sound bank.
---
Assassin's Creed: Valhalla (2020)
For those unfamiliar with the game, Valhalla is the 12th instalment in the Assassin's Creed universe, and this game is set in the Viking era (between 872-878 AD). It follows the story of a Viking raider Eivor Varinsdottir during the Viking Expansions to the British Isles. When considering the music, Sarah pointed out how the period and setting were huge motivators.
Sarah Schachner worked on the game's soundtrack with original Assassin's Creed composer Jesper Kyd and Norwegian drummer Einar Selvik. Collaborative composition on one open-world game was undoubtedly a great creative call because the combination of sounds between all three creatives opened up an abundance of sound worlds.
In an interview with Spitfire Audio, she states how Scandinavian and Pagan Folk music was a significant influence. Sarah also uses traditional instruments for that authentic yet vast sound.
Asgard – Hall of the Aesir
Her most recognised work in the game is Asgard – Hall of the Aesir. After listening to this, I was amazed by the layering of textures and her handling of audio effects. It feels like a moment of reflection, with the enormous use of reverb and the emergence of more textures throughout. What stuck out in this soundtrack is the use of this captivating horn sound. Sarah uses a Carnyx, a wind instrument from the Iron Age Celts. The most eye-catching feature of this instrument is the bell. It's shaped into an open-mouthed animal's head! In combination with soaring vocals from Einar Selvik, it creates a haunting, dream-like atmosphere.
Focusing on the carnyx specifically, this is the first instrument we hear in Asgard – Hall of the Aesir. It opens beautifully with vast amounts of reverb for extra dimension. Sarah's distinct sound emerges with her unique string textures and percussive sounds. Game Makers Podcast by Ubisoft spoke to Sarah and carnyx player John Kenny on the process of creating this soundtrack.
---
Exploring the Carnyx
John talks about the resonance of the carnyx and the extraordinary craft behind this compelling instrument. Sarah discusses its untempered quality and how it has a strange harmonic series. This allows wolf tones to reach the surface. These tones are usually a hindrance due to their harsher sounds, but the wolf tones can add more character. This all collates to creating that dreamland mythological echoes of Asgard, the land of the gods. To put the icing on the cake for this particular track, Sarah speaks of how the harmonic series of the carnyx represents the rainbow over the bridge of Asgard:
If you want to get super nerdy, the Carnyx is an untempered horn, so its sound comes from the natural harmonic series. Mathematically speaking, the harmonic series is the formula for nature's laws of relationships whether it's pitches and timbres, prime numbers, or the colours of the rainbow. So the sound of the Carnyx is like a sonic representation of the rainbow bridge in Asgard.

Spitfire Audio
---
Call of Duty: Infinite Warfare (2016)
Another stand-out work is her soundtrack for Call of Duty: Infinite Warfare. The game diverts from its typical ground war aspect and heads to the stars with space combat. In an interview with Game Informer, Sarah discusses her approaches to this soundtrack and how she wanted a different perspective on space.
Rather than concentrating on the vastness, honing in on the loneliness is what she aimed to capture. Her audition track Anthropic Universe was so well received that it became the game's central theme!
While there is still that grit and punch for the sounds of war, Sarah reimagines this sonic environment. She uses a combination of both orchestral and electronic instrumentation. The unique sounds of analogue synths, mixed with the delicacy of the orchestral strings and thumping percussion, results in a rich sonic space. Intertwined with the epic storyline, melodies sweep in and out, resembling that isolation.
The track Black Sky is an excellent example of contrasting textures. This track highlights the sonic differences between orchestral and electronic sounds, perfect for a transition in emotion. Sarah begins this track with tremolo strings that glide to create dissonance. Then we hear a sustained crescendo of horns which is then overtaken by a pulsating synth beat. That percussive synth takes over from the tremolo strings and amps up the threat of the music. The texture becomes more intense with lower strings playing repeated notes and trills; the drums become denser, and horns play harsh swooping tones.
This is another excellent example is the track Infinite Warfare. This is a much more heart-wrenching track with slow cello melodies (cellos are great for these types of melodies). It's decorated with a glittering synth motif and deep, gritty drone swells. Sarah can still capture this loneliness she speaks of, in addition to the fear of war represented by the electronic sounds.
---
Scoring for Game vs Film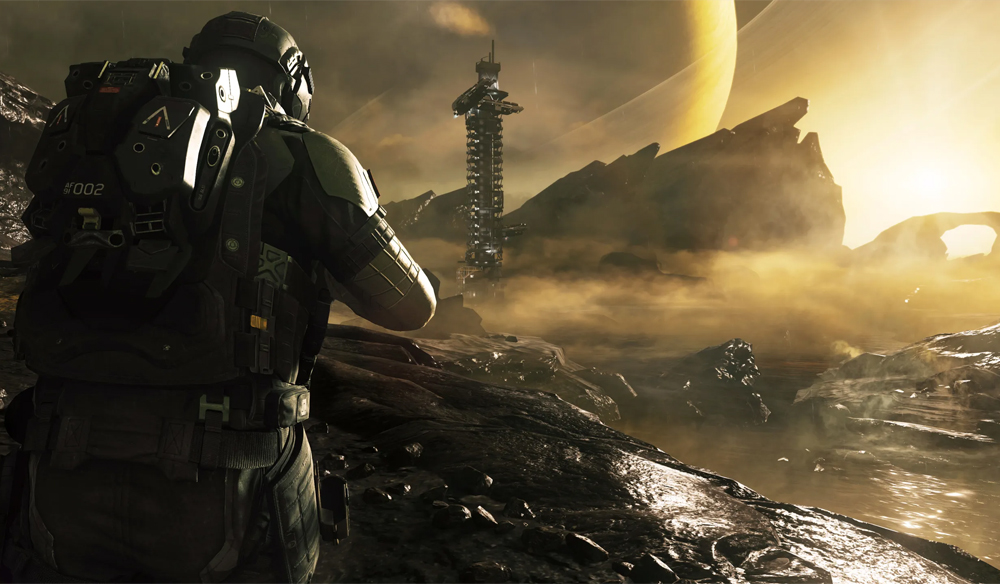 An interesting concept is the difference between composing for games vs film. With gaming, there is an array of possibilities. The process isn't necessarily linear as there are so many variables that can be found in the game by the individual player. Furthermore, the composer can't control what the player will do, where they will explore etc. It comes down to just writing more music than you'd think! Sarah discusses how game composition differs from the score to picture:
Each format has unique challenges and rewards. You rarely have to score to picture in a game since you can't control what the player will do. You'll be looking at sample gameplay for inspiration to get the vibe and energy levels. It can be very freeing not having to deal with constant picture changes, but then you have to write two to three times as much music as in a typical film. In a game like this, you also have the whole arcade-style multiplayer mode, which you can't really compare to scoring a film. At the end of the day, whether a film or game, you're musically telling a story, one that is interactive and long.

Game Informer Interview with Sarah Schachner
---
Prey (2022)
The newly released film Prey is Sarah's most recent gig. Part of the Predator franchise, Sarah really captures the emotional story of protagonist Naru amongst the goriness of the action. Set in the 18th century, it follows Naru, who is dedicated to proving her capabilities as a hunter. Only to her detriment, a deadly creature makes contact while hunting for prey.
Schachner's biggest challenge, she says, was to find the balance of the score feeling equally large and expansive as well as intimate and raw to match the 18th-century natural setting. Says Schachner, "The key was to not be afraid to say something in a film with so little dialogue."

Variety
The soundtrack is compromised of string instruments which she performed and recorded herself. Regarding the predator theme, Sarah states how it came instantaneously. Being a multi-instrumentalist and having access to those initial sounds makes the composition process much more exciting!
Film director Dan Trachtenberg collaborated with Sarah to create the most recognisable track of the film Naru's Way. Sarah expresses how they wanted a theme that takes you on a journey. So let's take listen!
The piece opens with a bowed string melody with an underlying pizzicato motif to outline the harmony. For something that does start with this small idea, it grows into something much larger as it progresses. More string parts play the pizzicato idea but are instead bowed while the melody texturally grows.
The melody goes up by an octave for an enhanced and heightened (quite literally) feel. This anticipates a change indicated by another motif in the sixteenth repeated notes. It explodes into another falling melody idea before referring back to the initial melodic idea in a much fuller texture. The additional repetitive messages underneath drive the music forward, bringing the audience on her journey.
---
Capturing the Period Setting
While the film is visually gory, Sarah does a great job of balancing this with the emotional side and authenticity of the story setting. Sarah explores various instrumentation, including a Morin khuur (horsehead cello) from Mongolia and a primitive violin from Kazakhstan. Sarah is recognised for using ancient instruments and melding them into modern-day action and music technology. She wanted to find authenticity behind this soundtrack and worked with Native American Flute Player Robert Mirabal to achieve this.
With minimal prompts and a lot of freedom, Schachner worked with Mirabal remotely in a studio — this being mid-pandemic, he was in New Mexico, she was in Los Angeles — to improvise a library of free-ranging tones and notes.

NPR
The track Flesh and Bone is super immersive, filled with primal-like textures and decorated with Maribal's flute playing. The use of non-western percussion sounds gives a much more raw and earthy sound. Furthermore, the flute playing acts as whispers amongst this vibrant texture for a sense of mystery.
Sarah Schachner is a composer to keep an eye on. While she already has mastered the craft of composing for games, her success in film composition is now underway. Sarah continues to be a pioneer for aspiring female composers, especially in the gaming world.
Her innovative ways of crafting sounds and fusing acoustic strings and synthesisers enable a much more immersive experience for the viewers (or players). Experimenting and finding balance within scenes provides a more realistic experience to the viewer. Sarah achieves this in all of her works.
---
Cover photo via 20th Century Studios.
For more on music and audio, check out the articles below.