Choosing a Digital Audio Workstation (DAW) is a huge commitment. Finding the one that fully suits your creative needs and more can make or break your creative output.
Looking at the two most profound DAWs in the music industry: Ableton Live and Logic Pro, they both have great features that justify their popularity among professionals and aspiring producers. But how do these two workstations compare?
Main Differences between Ableton Live and Logic Pro
As both serve the same purpose of being able to produce a track, they each have a variety of differences that may affect the way you work.
For those looking for a DAW that favors film scoring, Logic Pro takes the win. It provides a smoother workflow with features such as setting markers for specific moments that align with the movie, using a time-based timeline rather than beats or bars, and syncing the movie to your timeline. However, Ableton isn't designed for film scoring but has great resources for live performance and sound design. This DAW is perfect for any electronic music producer or a sound designer looking to curate sound effects and create unique instruments with powerful sampling capabilities.
Regarding workflow, Ableton separates itself from Logic Pro due to its non-linear workflow found in Session View. While Arrangement View shares qualities with Logic Pro's standard view, Session View is an excellent canvas for looping ideas and arranging them freely. This feature is highly favorable for those who do live performances and also serves as a significant first step for laying down ideas without the restriction of a timeline. On the other hand, Logic Pro offers a more familiar experience with its linear workflow, providing great mixing features that are readily available through configurable buses and channel EQs. Using automation in Logic Pro's timeline is much more traditional and easy to carry out.
Depending on the computer system you use, whether you are a Mac or Windows user, Logic Pro is only available on Mac systems. This may be a setback; however, Ableton Live is open to both Mac and Windows users! Furthermore, Ableton comes in three versions: Intro, Standard, and Suite, whereas Logic Pro only comes in one version.
Built-in Tools
Assessing the quality and versatility of the stock features that both Ableton and Logic offer is a great starting point. Most, if not all, expert producers will opt to use third-party plug-ins, which may offer higher-quality and more realistic instruments and effects that aren't available within the software. However, knowing whether the DAW has suitable stock tools is always good if you don't want the hassle of looking elsewhere.
From a distance, Logic Pro has an extensive library of reasonably great stock instruments that provide your standard classic film score sound. With synths like Alchemy, which has a library with over 3000 sounds, it's easy to get lost in diverse sonic possibilities. With multiple parameters included within the synth to further sculpt the sound and a vast amount of presets to build upon, having all of this available in the stock library is quite impressive.
Additionally, Logic Pro has a decent-sounding string library that can be easily used for that classic orchestral film score sound. With that, Logic has studio favourite instruments that emulate classics like the Hammond B3 and a Rhodes Electric Piano. Lastly, Logic Pro has included a feature where you can mix in Dolby Atmos, a common feature in larger-scale production film composition.
Ableton also has a wide range of stock instruments. But what sets Ableton apart from Logic Pro is its focus on sound design. For those interested in sampling and types of synthesis such as FM or Wavetable, Ableton can deliver. With instruments such as Operator and Wavetable, you are able to make unique instruments and create virtually anything to your heart's desire. There are also a great number of presets available for you to work with, and is a great way to learn how to build your own synth. However, the downside is that not all these instruments are available in Intro and Standard if you can't afford the Suite version.
As mentioned previously, Ableton has versatile capabilities in sampling. With its Simpler tool available on all versions, you can make your own instrument from any recorded sound. Furthermore, the Simpler offers three modes: Classic for creating sampled instruments, One-Shot for creating custom drum racks, and Slice mode for creating an MPC-style sampler. While Logic Pro has recently introduced a sampler tool, Ableton offers a much larger range of multifunctional tools for meticulous sound design in sampling audio.
Ableton is the DAW for you if you are interested in being experimental with your music and are focused on synthesizers, sound design, and sampling. On the other hand, if you prefer readily available stock instruments with plenty of presets and don't want the hassle of looking for extra VSTs, then Logic Pro will be your best choice.
Workflow
A DAW can have the best instruments and effects, but being able to navigate them in a smooth and well-organized manner can also contribute to your productivity in projects. Let's compare the workflow features of Ableton Live and Logic Pro.
Logic Pro is well-known for its simple yet powerful linear timeline, which makes composing and inputting automation very easy, especially for beginners. For those who work with video, Logic Pro offers key tools like SMPTE locking, which protects the position of events on the timeline. This makes the process of composing alongside the movie much easier and smoother. While Ableton supports having video within the timeline, the process is more complex than its competitor. Furthermore, Ableton is unable to sync to SMPTE, which can be a deterrent when working with video.
Both Ableton and Logic have clear and concise linear timelines, making it easy to build compositions. The main difference between the two lies in Ableton's Session View. This view serves as a live looper for those who enjoy working with loops. It allows you to capture loops and arrange them in patterns and sequences without the constraints of a fixed timeline. While Logic has recently introduced a looper view, Ableton's implementation feels more natural and easier to navigate. It includes functions like Warp mode for editing pitch and tempo and Launch modes for determining clip playback. Additionally, Ableton allows you to seamlessly bring those ideas from the Session View into a linear timeline with just a click-and-drag motion.
When it comes to linear workflows, Logic offers a brilliant timeline canvas that makes it easy to map out your composition. Its appearance on the surface seems less daunting compared to Ableton, which some may perceive as dated. In Logic, you have the option to view the mixer for each track while having the timeline on screen. This can be great for monitoring levels and return tracks. However, this is not the case in Ableton, as its Arrangement view is slightly more limited.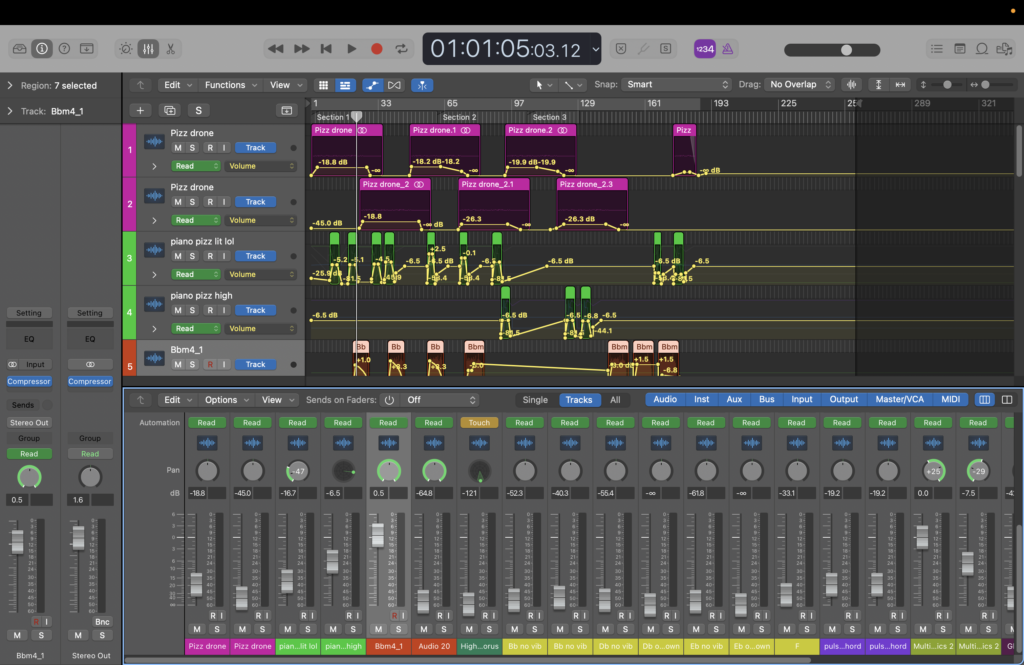 Midi Composition
Using MIDI has become one of the most common methods for composing a film score. MIDI is essentially encoded digital information sent between a software instrument, such as a synthesizer, and a DAW.
Ableton Live and Logic Pro offer excellent MIDI tools and handle them effectively. In Ableton's Session View, arranging MIDI clips is straightforward. On the other hand, Logic Pro provides more capabilities when it comes to the meticulous aspects of MIDI handling. In addition to the standard piano roll, which is fairly easy to grasp for beginners, Logic Pro also includes a score editor for those who prefer working with scored notation. This provides a more detailed and precise way of editing MIDI.
While Logic Pro has a score editor, Ableton does exceed when it comes to external hardware that uses MIDI. Ableton has the MIDI Map control, which allows you to assign a certain parameter to an external control knob, allowing you to map out automation with your hands rather than drawing it in, all with just a simple click of a button! This is a huge plus for those who like to record something live with automation. This is a substantial advantage to those who like to perform live music or dialing in automation whilst recording.
Value for Money
Price is one of the most significant factors when making these important decisions. Let's look at each DAW, what they offer, and whether they are worth the price.
Logic Pro is available in one version, retailing at £199 ($199). Considering the high-quality stock instruments well-suited for film scoring and the impressive audio effects it offers, I believe the price point is incredible. If you are an Apple user, Logic Pro integrates well with Mac software and can be used on other devices, such as the iPad. However, it's worth noting that Logic Pro only supports AU Plug-ins, not VST2 or VST3. On the other hand, Ableton supports these plug-in formats and comes in different versions. Logic Pro is a great starting point if you're on a budget. Many industry-leading producers use Logic due to its efficient workflow, and the price won't make you wince at the checkout.
Both Logic Pro and Ableton offer free trials lasting 90 days. Ableton's free trial gives you access to Ableton Suite, the highest-tiered version, for the entire duration. Ableton Suite provides maximum capacity in terms of stock instruments and effects, including Max For Live. Ableton is available in Intro (£69), Standard (£319), and Suite (£539) versions. So, if you have the budget, Ableton Suite offers a wide range of instruments, effects, and Max for Live instruments that are perfect for generative music. It also includes extra downloadable packs that you may need to pay for in the lower-tiered versions.
Final Verdict
Now that we've compared each DAW, which one is better?
To put it simply, it depends on the type of music you want to compose. Ableton is the way to go if you're an experimental producer who enjoys spending time on sound design, building synth sounds, or exploring live looping for ideas. Although it may take some time to get used to due to its analog appearance, once you grasp the basics, it becomes an exciting platform.
Logic Pro is a suitable DAW for those who need great stock instruments without the need to purchase additional VSTs. It is also beneficial for film composers on a budget and beginners seeking a user-friendly option. Logic Pro has a well-designed interface for mixing tracks, with easy accessibility to important parameters such as gain control, buses, and EQs. Additionally, with its extensive library, it offers a wide variety of high-quality instruments at a more affordable price compared to its competitor, Ableton.
Both DAWs offer significant features, and their functionalities overlap in some areas. Before making a purchase, it's recommended to try them out through the available trials, as hands-on experience will give you a better understanding of what each DAW offers.
---
For more on audio, check out these articles: