An end screen is a YouTube element that appears at the end of a video to provide creators with a final opportunity to engage with their audience and promote their content. Below is an example of an end screen from a video by Videvo (one I present in, so be sure to check it out).
(Free download at the bottom of the article )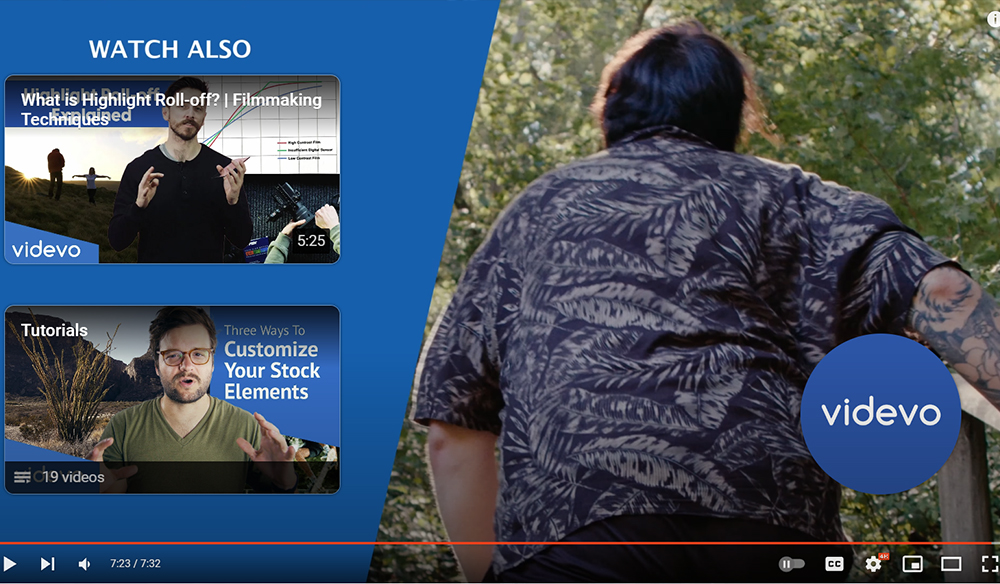 In the above example, we can see that the end screen offers the viewer a chance to; watch another video, start a video playlist, or subscribe to the channel.
While they are a default YouTube element within the creator studio, you must activate them. Here's how:
How To Activate End Screens
To activate end screens on your YouTube videos, you will need to follow these steps:
Log in to your YouTube account and navigate to your Video Manager.
Click on the video if you want to add an end screen to.
Click on the "End screen & Annotations" tab.
Click on "Add element".
Choose the type of element you want to add, such as a video or playlist, subscribe button, or link.
Customize the element by adding text, changing the position, or selecting an image.
Preview the end screen to see how it looks.
Click "Save" to add your end screen to the video.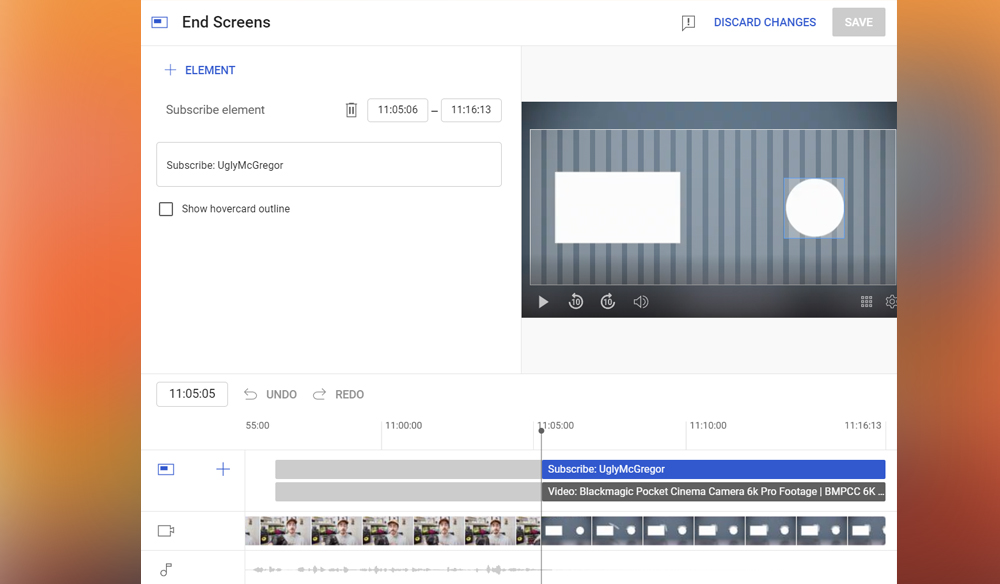 You can add up to four elements to your end screen and set the timing for when the end screen should appear during the video. It's important to note that your video must be at least 25 seconds long to have an end screen. Once you've activated end screens on your videos, viewers can see them during their last 5-20 seconds.
---
Why YouTube End Screens Are Important
So you know what end screens do and how to activate them, but is there a need to do it? Well, first and foremost, end screens encourage viewer engagement. They provide a way for creators to promote their other videos and encourage viewers to engage with their content. This is especially useful if your video is part of a series. You can lead the viewer directly to the next video without them having to search for it.
In addition to increasing viewer engagement, end screens can be crucial in expanding a creator's subscriber count. By encouraging viewers to subscribe with a visual call-to-action, creators can establish a stronger connection with their audience and ensure that a wider audience sees their content.
End screens can also provide valuable opportunities for creators looking to monetize their content, as end screens can be used to promote affiliate links, merchandise, or other monetization opportunities. For example, if a creator enables a product in their video, they can include a link to the product on the end screen, making it easy for viewers to purchase. This can increase conversions and generate additional revenue for the creator.
Finally, end screens can also be used to increase brand awareness. By including brand logos, slogans, and other marketing material, creators can help to reach a wider audience and establish a more substantial brand presence. This can be especially important for creators looking to establish themselves as influencers and build a loyal following.
We can see this in Gamespot's end screen below. They end the video with an end screen that displays the typical Gamespot colour scheme.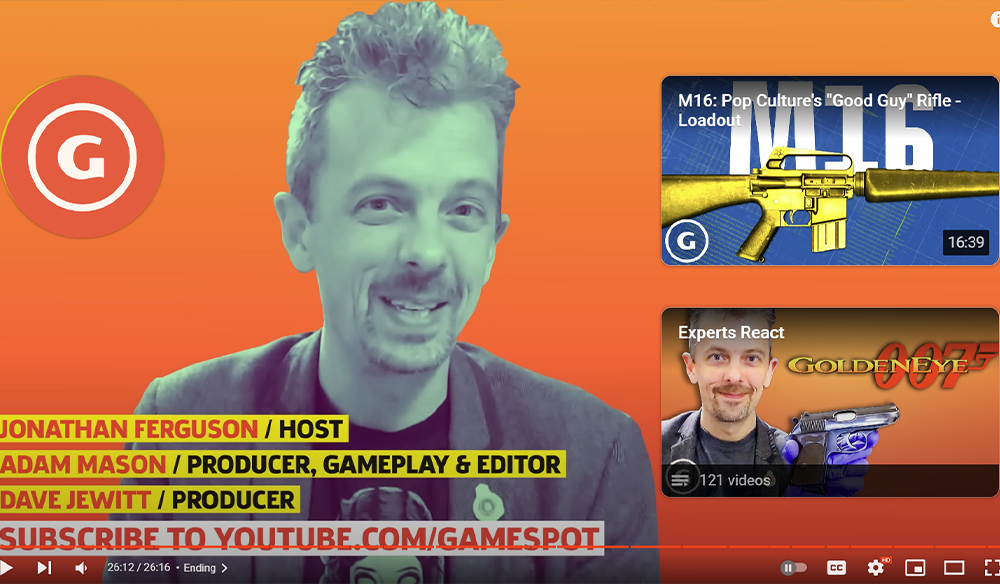 It's worth noting that there are some limitations to where end screens are visible. For example, they cannot be seen on mobile web, except for the iPad, nor in Flash or 360 videos, and they are not available in the YouTube Music or YouTube Kids apps.
---
Create Your Own YouTube End Screens
To make your end screens, you'll need to create images that fit the specific dimensions of each element.
The image size should be 1920 x 1080 pixels.
The dimensions of the subscribe sphere are 298 x 298 pixels.
The video and playlist rectangle can be either 613 x 343 pixels or 861 x 482 pixels, depending on the aspect ratio of your video.
Finally, the link square should be 298 x 298 pixels.
Using these dimensions, you can create an end screen that fits seamlessly with your video and encourages viewers to continue engaging with your content.
---
Free Animated YouTube End Screens
Although creating your own end screens is not necessarily problematic, it can be a tiresome task if you lack the skills of a designer or motion graphics editor. This is where we step in to assist you. We offer ten free animated YouTube end cards to make the process easier for you.
In the video provided, you can observe how the end screens possess a fun gravitational impact, causing the call-to-action to tumble and shatter onto your video or subscription end-screen component.
The bundle comprises multiple gravitational designs and end card elements, including segments for subscriptions and playlists. Additionally, a blank matte version is available, which enables you to customize the colors to match your channel's theme.
These assets are free to use in any personal or commercial projects. By downloading, you agree not to sell or redistribute these assets.
---
In conclusion, end screens are a valuable tool for creators looking to engage with their audience, grow their channel, and monetize their content. By including links, calls to action, and branding, end screens provide a valuable opportunity to extend the impact of a video beyond its initial run time.
Whether you're just starting on YouTube or are looking to take your channel to the next level, end screens are an essential aspect of your video content strategy. By leveraging the power of end screens, you can help to increase viewer engagement, build a loyal following, improve video SEO, monetize your content, and increase brand awareness.